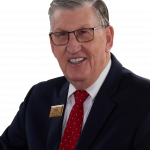 Broker, John MacLeod
MacLeod Associates Team
Broker/Owner
John MacLeod is a real estate broker and co-founder of the local real estate boutique, Partners Real Estate Professionals, P.C. He has over 50 years of Corporate Management and Real Estate experience. His tireless work ethic, positive attitude, and ability to build an instant rapport with people are legendary among his clients and peers. This level of communication is key in making your way successfully through a real estate transaction.
John is very proud of the fact that the majority of his business comes from referrals from prior and current satisfied clients.
Moving into the Brighton, MI area in the year 2000, John is more than well-established within the community. He is a member of the local chambers and rotary and takes part in events that have a positive impact on the people he serves. In 2008 he made the decision to open his own office. Now, remember...this was one of the most challenging times in the real estate industry, and if he wasn't so successful one might have called him crazy!
John works side-by-side with his daughter, Susan Bosntelle, and Grandson, Nick Bonstelle. Together they formed the powerhouse team, MacLeod Associates, providing services for both residential and commercial real estate. Check out a sample of this teams reviews below!