WHY MARIANNE GETS SUCH GREAT RESULTS…
Reliable – Experienced – Compassionate
Since 1988, when Marianne McCreary first received her real estate license, she was well aware that "reliable and reputable services are what this business is truly all about". And since the beginning…Marianne has applied this certainty, making real estate her full time career.
With Marianne's strategic knowledge of the market, and her understanding of the swings and details of selling and buying, her dedicated focus makes for very satisfied clients and homeowners.
Marianne's experience with first time home owners, seniors, short sales and relocations has enabled many to understand the intricacies of homeownership and the successful transition of this.
Respect, honesty, and trustworthy. These three components are what every client looks for in a Realtor. You can count on this being the level of service you will be extended.
Partners Real Estate Professionals is happy to share with you a sample of Marianne McCreary's Client Testimonials below.
"I am very grateful for my loyal clients. This business is one of close relationships and I am very fortunate to be able to share so many positive real estate experiences with my clients.
Your satisfaction is the ultimate reward for my work, and it is why I strive to be Your Southeast Michigan Partner in Real Estate!" – Marianne McCreary
A Random Sample of what Marianne's Client's have to say...

GOING ABOVE AND BEYOND
Who wouldn't want their house sold quickly and without hassle? Marianne will go above and beyond to make sure you don't get put into a bind when buying or selling a house. Make sure you call her today if you are thinking about buying or selling your home!
– Denton Farley

Marianne McCreary – Refreshing to Work With!
My husband and I have used Marianne many times over the years to buy and sell houses. It is refreshing to work with someone that is professional and will be honest and up front with you. She truly cares about the people she is working with. We will definitely use Marianne in the future when its time to sell!
– Sandra Miller Skalmowski

Brighton, MI | We Sold a home & Purchased a condo
"Marianne helped us sell our home several years ago and found us a fantastic condo to buy. Marianne is a professional through and through who really knows the real estate business and who works very hard to make the process enjoyable, rather than painful. I would highly recommend Marianne and would never doubt that she would do a good job for you."
– P. Breazeale

09/24/2016 – golfobit
Bought a Single Family home in 2016 for approximately $475K in Howell, MI
"Marianne worked closely with us to purchase a home. She was always available (within a day) whenever we wanted to see a home or had questions. She was quick to deliver items needed by our loan officer to facilitate a smooth closing. I would highly recommend her."

04/06/2015 – zuser
Sold a Condo home in 2015 for approximately $200K in Brighton, MI.
"Marianne was very helpful from start to finish. From selling our house to buying a new house. She was always available and never refused any request. She gave us helpful tips on selling and insightful ideas on buying. She was knowledgeable about the read and what was being offered for sale. She was present at both closings and made us comfortable and confident with her knowledge of the procedures. I would highly recommend her to anyone interested in either buying or selling."

04/01/2015 – kassandra
Bought a Single Family home in 2013 in Pinckney, MI.
"I couldn't have asked to work with a better Realtor. Marianne was patient with us, and listened to our needs. She was honest when walking through the homes, and gave us insight as to what we should watch out for. She provided us with reliable contacts for our well/septic inspection, and home inspection. We value her knowledge, and expertise."

01/04/2015 – nsnider4
Sold a Single Family home in 2014 in Howell, MI.
"Marianne helped us sell our first home and she was absolutely fantastic from beginning to end. She really spent the time getting to know our home and was able to provide thoughtful suggestions about improvements to the house and staging. She clearly stood out in this respect from the other realtors we interviewed. All of her advice paid off – we had several showings within the first week and sold the house in about 2 weeks. Marianne answered all of our questions right away and she was always available to us. She is professional, incredibly hard working and it is quite evident that she loves her job. We highly recommend her!"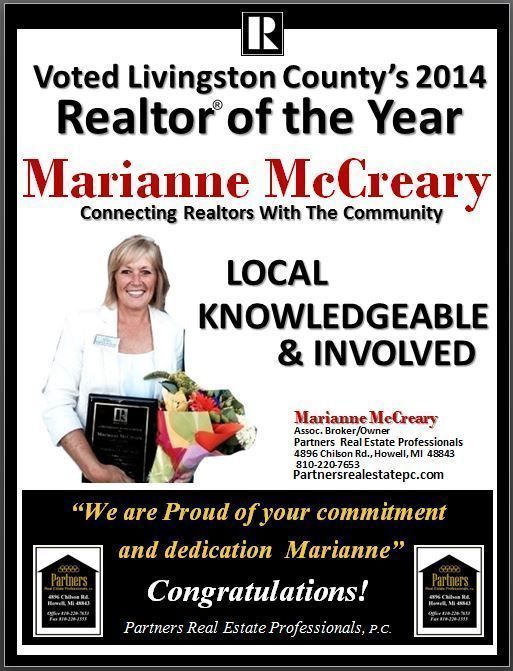 01/03/2015 – user74640670
Sold a Single Family home in 2014 for approximately $275K in Brighton, MI
"Marianne went very quickly from someone working on my behalf, to friend. She cares like a friend and worked by my side as I sorted through all the questions of home buying. As a first time home buyer as a single mother, she took the scary out of the process and got me ready for everything before it happened.
I found her on Zillow. It couldn't have been an easier process."

11/12/2014- CAJUNMAGIC95
Sold a Home in 2014 in Deer Creek, Howell, MI 48855.
"Walks you through every process. Maintains open communication consistently and is diligent in returning calls. Available when needed. Excellent service."

06/14/2014 – user96864682
Sold a Single Family home in 2013 for approximately $325K in Brighton, MI.
"Marianne is the best real estate agent we have ever hired! We left our home to out of state in her caring hands to sell for us out of necessity. She was highly recommended to us so we felt confident and rightly so. Our house was not market ready but Marianne made calls for repairs, waited on contractors to arrive, inspected the work for us and always reported what was done and even had pictures for us! She is knowledgeable, professional and will go out of her way to get your house sold! Can't say enough good about this impressive five star realtor! Thank you Marianne, and best wishes for all your future endeavors!"

06/10/2014 – c korpi
Sold a Single Family home in 2014 for approximately $225K in South Lyon, MI.
"Marianne was right on-spot preparing us to sell our house. Her expertise in the current housing market assisted us to list our house at a fair price and multiple offers to choose from! We listed and closed quickly, while being educated for what to expect so we were prepared. Marianne was professional and responsive to our needs. We would recommend Marianne without any hesitation!!"

06/10/2014 – Suzer
Sold a home in 2014.
"I have both purchased and sold property thru Marianne McCreary and if the need or opportunity arises again to deal in real estate I most definitely would call her first. She is very knowledgeable in the Livingston County Michigan market and advises for the best possible outcome. The process for both buying and selling was explained and made uncomplicated by her. I truly believe she gives her all for a best and realistic deal. She has made herself available whenever requested and answered all inquiries no later than the next business day morning if not the same evening.
Excellent experiences and will highly recommend her and her office to others."

06/08/2014 – P. Wedzel
Bought a Condo home in 2014 for approximately $175K in Hartland, MI.
"Learned quickly exactly what kind of house you were looking for and referred them to you as soon as they were listed. She is a very high energy motivated realtor. I would recommend her to anyone."

06/16/2013 – Cb11827
Sold a home in 2013 in Genoa Township, Brighton, MI 48116.
"Marianne conducts herself in all business transactions with upmost integrity. She always responded in a timely manner and was proactive during entire process. We highly recommend her."