Area Highlights
A quick view of the most influential metrics in Brighton.
Let's Chat About Brighton
Learn more about Brighton
Brighton Michigan | Homes for Sale
Visit BRIGHTONWEBCAM.COM for live 24/7 video & audio stream of the Brighton Michigan Millpond.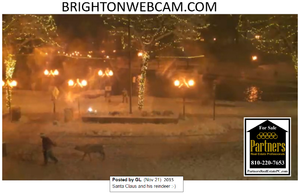 Brighton Michigan is a medium-sized city in the southwest part of Livingston County, Michigan. It has approximately 20 neighborhoods and is the 154th largest community in the state. Brighton is located about fifteen minutes from Ann Arbor and forty minutes from Detroit in the heart of the Great Lakes Region. Brighton is a thriving suburb of the Detroit Metropolitan Area and an integral part of the Lyon-Howell-Brighton Urban Area. The Brighton city motto is "Where Quality is a Way of Life." The city is part of a continental climate biome which features cold winters with heavy snowfall and warm summers offering residents plenty of time for outdoor winter activities as well as summer ones. The community is somewhat racially and ethnically diverse, however, English remains the primary language. It is a wealthy and well-educated community when compared to both state and national economic and educational statistics. Nearly 40% of adults over the age of 25 hold four-year degrees or higher making it easier for many residents of the community to earn higher pay.
The Brighton Michigan settlement was established in 1832, incorporated as a village in 1867 and lastly incorporated as a city in 1928. Growth was slow but fairly steady for many years. In more recent years, efforts to revitalize downtown have been well-received and continually supported. Over the years Brighton has been home to a number of notable people, including quarterback Drew Henson, center fielder Mickey Stanley and cornerback Morgan Trent. Today it is a thriving community with a mixed job market and workforce featuring both blue and white collar positions.
The city spans 3.64 square miles of virtually all land area. In 2010, the population of Brighton was 7,444 and a population density of 2,091 people per square mile. In 2009, the median household income was $47,668, the median family income was $77,105 and the per capita income was $29,781. By 2010, the per capita income was estimated at $35,788 and by 2015, the population was estimated 7,609. Steady growth in population and the local economy perfectly illustrate the thriving community.

Public education in Brighton is provided by the schools of the Brighton Area School District. Local schools include Brighton High School, Scranton Middle School, Maltby Intermediate School, Spencer Road Elementary and others. The city has no public transportation system and carpooling is the most common commuting option. Downtown Brighton features over 25 eateries, bars, and fine dining options. Downtown is highly walkable, has a wonderful community playground and is home to an array of unique boutiques and stores. Brighton has two major shopping malls, Brighton Mall and Green Oak Village Place. One of the most well-known landmarks is "Decision Pending" a nude bronze statue and the root of some controversy. The city is lucky to be located near several county parks, state parks, lakes and more ensuring countless opportunities for outdoor fun. Homes for sale range from small first-time buyer homes up through sprawling family homes. Other real estate options include apartments and other rental properties as well as condominiums and townhouses for sale or lease. To begin your home search call local real estate agent (insert name here) at (number here) today.
https://en.wikipedia.org/wiki/Brighton,_Michigan
http://www.brightoncity.org/Home.aspx
Properties in Brighton
View our selection of available properties in the Brighton area.
Inside Brighton
Check out the latest demographic information available for Brighton.
Overall Cost
VS National AVG
Housing Cost
VS National AVG
Entertainment Cost
VS National AVG
Utilities Cost
VS NAtional AVG
Crime Rate
VS National AVG
Let's Chat About Brighton
Brighton Schools
Learn more about schools near Brighton complete with ratings and contact information.
schools
phone
type
grades
rating
Not Available
Private
KG-8
Not Available
Private
PK-7
Not Available
Private
KG-8
Not Available
Private
PK-8
Not Available
Private
PK-8
The Best in Brighton
Browse through the top rated businesses in the most popular categories Brighton has to offer.
Dine
Drink
Shop
Perk
Sweat
Groom
Wag